We are excited to announce another brand-new feature to make your E-Closing experience even more amazing! In just a few weeks, you'll be able to create custom Signature and Notary Blocks with just a few clicks. We love your great ideas, so please keep them coming!
Do I need to make my own signature blocks for each file?
Only if you want to! For your standard files, you'll continue to allow the program to make signature blocks in your documents for you. This new feature is for scenarios that break away from the norm, such as:
Add multi-tiered signature blocks for different entities, subsidiaries, or parties, including those that are not added to the file
Add multiple witness blocks for separate signing sessions
Change the notary verbiage
or for ANY OTHER REASON! This is your space to get creative 😊
Where will I find this new page?
In the file, open the Menu
, and under Documents, click on Notary and Signature Blocks.
How do I create a custom Signature or Notary Block?
It's easy! Just select a party from one of the Signatory Name dropdown menus to get started.
Signature Blocks – Click the green plus button

to select the number of witnesses.
This brings you to the Add Signature Block editing window. See how the Signature appears and make any needed changes by free typing in the information (i.e., entity names, individual names), OR...
Add more Signature Lines and Witnesses with one click.
Now you're ready to free-type individual names and titles. Utilize the toolbar for added functionality such as bold, italics, indenting, and the Insert Horizontal Line feature.
Add as many parties and witnesses as needed.
Click and drag makes it super easy to get the exact spacing and look you're going for.

Notary Blocks – In the Add Notary Block editing window, see how the notary language populates. Now you're ready to customize the notary block. Utilize the toolbar for added functionality such as bold, italics, and indenting.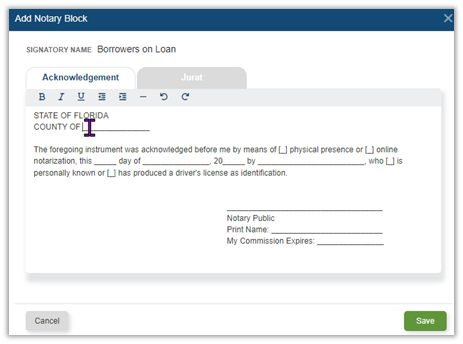 Do you already have a custom notary block prepared? Make customization even easier by copying an existing notary block and pasting it into the Acknowledgement or Jurat field to streamline the process further.
Need to make a change to your Signature Block, Acknowledgement, or Jurat? Select the Edit Signature Block button (a/k/a pencil) to re-open the window and make any needed changes.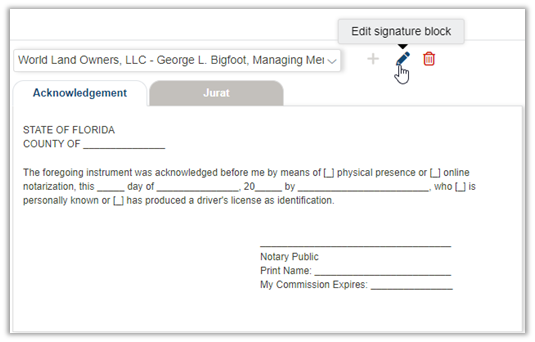 Do the custom Signature and Notary Blocks save in the system?
Yes, you have options too!
Copy from another file – When you copy a file, all the info you choose, including Notary & Signature Blocks, carry to the new file.
Create a Master File – A Master File is helpful for repeat business; use it with Copy File to pull in the blocks to a new file.
Use Name Match – Only want to copy the buyer or seller info from another file? Start a new file and copy their information from the Name Match feature on the Buyer/Seller Info pages.
When can I use it?!
The current release is planned for August 22nd! Either check back here for an updated ETA or keep an eye out for Release Notes! A step-by-step guide or video will be available as well. Have an idea or suggestion? Share it at our idea's portal: https://e-closing.ideas.aha.io/